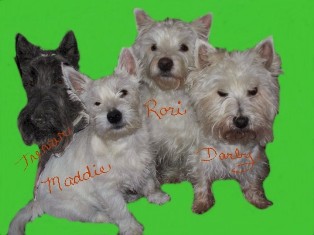 "All the world's a stage"...at least to these canines. They love to perform and learn. Please explore their site and discover their many talents, and by all means, if you have a need for a canine actor/model, contact us via email with your number and we'll call to discuss YOUR needs. You won't be disappointed! These dogs can learn just about anything!

Climbing graduated ladders, walking on top of walls, playing dead, turning in specific directions...and the list goes on. Dogs are highly motivated and can portray a variety of emotions as well.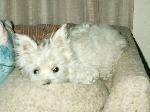 About Us

We (the professional actors/models) have actively trained since the day we all came home. Our learning began the minute we were picked up in our owner's arms and hasn't stopped. Every day we perform, whether it be at home or elsewhere, and each day we continue to expand our repetoire of tricks and commands. We are trained by positive methods so each session is like play. Photo shoots are a favorite as well and we will set-up nicely on our own or take your direction. We love the fuss and attention and are happy to perform, just ask us.

Our site will be ever changing as we are making an effort to present you with our entire spectrum of talents, so please "paws" a while and continue to check in.

We look forward to hearing from you. Please contact us via email at this time: westiesnscottts@verizon.net or wstiefan@infionline.net. We'll gladly call you with your contact information provided. Questions are always welcome!

Talented Terriers is comprised of three West Highland Terriers and one very handsome Scottish Terrier, at this time. They work daily with their trainer who has over 30 years of experience "in dogs," -tricks and performance, agility, conformation, obedience, and any other dog activity available. While each actor exhibits their own individual talents and specialities of performance, all are seasoned in fundamental obedience. Each canine is unique in their expression of emotion and presention of skill. Our specialty is learning something new and succeeding!

We welcome you to explore our site, contact us, and hopefully shake paws with us very soon. Thanks for stopping by!